About Elise Martinson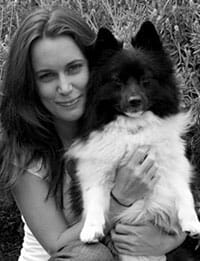 Hi there!
My name is Elise Martinson and I'm a Melbourne based illustrator and designer. I am best known for my illustration work on The Perth Mint's coin series, particularly the Australian Bush Babies coin series featuring 5 cuddly Australian critters (later featured on a series of 2011 stamps issued by Australia Post). I prefer to work digitally and animals and fantasy creatures are my favorite subjects to draw. I'm a sucker for variety so when I'm not working on cute animals I'm usually working on something less-cute, or sculpting or designing layouts for print and web.
A bit of a background
I began drawing at an early age and throughout school I became really interested in art, technology and biology. After graduating high school I had trouble deciding whether to follow a career in the arts or sciences. I knew I wanted to do something art related or something to do with biology and animals. In 2003 my application to the John Curtin Undergraduate Scholarship was accepted and it was decided that I would attend Curtin University to study Multimedia Design. Part of the scholarship allowed me to travel to Ryerson University in Toronto, Canada where I spent six months studying and exploring life outside Australia. After returning I continued my study and completed my Multimedia Design course with First Class Honors.
Having worked in a few design positions and a variety of projects as a student, I found myself with a varied portfolio which was often overlooked by studios looking for specialised designers. Fortunately, the Perth Mint was looking for an individual who had a broad skill set and illustrative ability and thus began my role there as a designer! I designed and illustrated a number of coin series (and packaging) for The Perth Mint including the 2009 Celebrate Australia series, Australian Bush Babies series and the 2009 and 2010 Young Collectors coin sets to name a few. After a couple of years I felt the need to stretch my wings and decided to go out into the world as a freelancer and see where it took me.
I now currently reside in Melbourne and run my own business creating illustrations for products and advertising, improving my art and my portfolio in my spare time.
My other interests include snorkeling, sculpture, markets, conservation, birdwatching and movie watching.
If you're interested in my illustration work or have any questions or comments, please don't hesitate to drop me a line via the contact page. I'd love to hear from you!
-Elise Martinson