Elephants to go under the hammer
This big night is fast approaching! The one and only chance for people to claim one of the 50 elephants painted for the Mali in the City event. Both of my painted elephants "Elephantasy" and "Here Today…" along with the 48 others will be auctioned off on the 25th of October.
Next week on the 17th and 18th of October there will be two preview nights for prospective buyers to inspect the elephants and speak to the artists behind the art. I will be attending on the second night (18th).
Below is an invite and some additional information on the event. If you are interested in purchasing a Mali, RSVP at the email on the pamphlet below as places are limited. If you miss out, there will be absentee and telephone bidding on the night.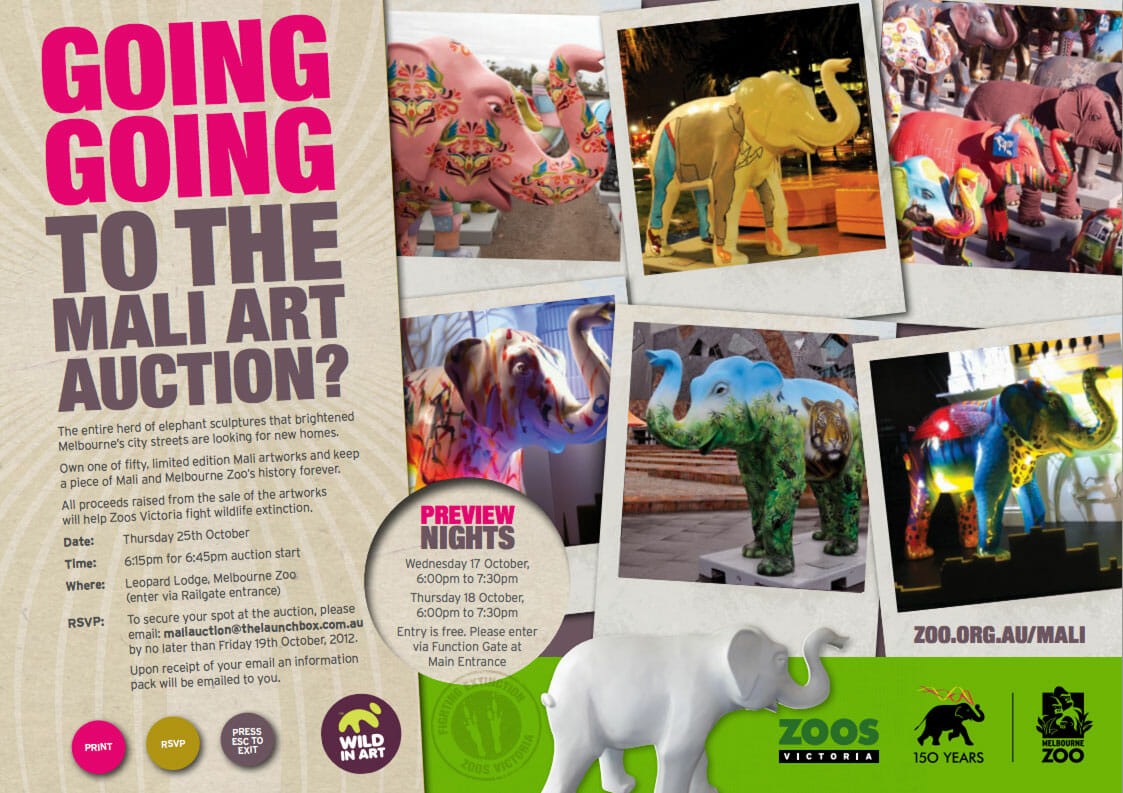 The reserve price is $3000 per Mali
An exhibition catalogue will be available (I'm not sure how these will be distributed but will post more information when I find out)
The auction will be held on the 25th October at Melbourne Zoo in Leopard Lodge (the Melbourne Zoo's on site function centre. It will commence at 6.15pm till 8.30pm)
There will be two preview viewing events on the 17th and 18th October at Melbourne Zoo for interested buyers.
There will be both absentee and telephone bidding set up for the night.
Buyers can either keep the Mali on the solid concrete base or have it removed.
Linfox will be available on the night for anyone wanting to organize delivery (this will be an additional charge approx $250
I'm really excited and curious to see what the bids will be! The money will go towards the zoo's conservation efforts.
For more information on the auction and the Mali in the City event. Click here.
Header image credit: (c) 2012 Melbourne Zoo. Left elephant: Vanessa Bong, Centre elephant: Max Blackmore, Final Image: Various artists.
Photography of Elephantasy and Here Today by Fresh Photography.