Eight horse silver bar illustration
To celebrate 2014, the Year of the Horse, I painted eight running horses on behalf of Australian Gold and Silver Exchange (AGSX). This illustration is inspired by the popular Chinese eight horse paintings which are often hung in a business or dwelling to bring success and good fortune. Chinese artist Xu Beihong is the artist most famous for his loose and energetic ink paintings of horses. His paintings started a movement of similar artworks featuring running horses, many of which are reproduced on gold and silver bars in China. Seeing a lack of similar designs for the Australian market, AGSX had me illustrate a version in my illustration style for production on a 2 ounce silver bar.
This project supports a great charity, Horse Welfare Inc. You can visit their website here or follow them of Facebook here to see the fantastic work they are doing for horses in NSW.
It's due to be released in August, preorders are now open.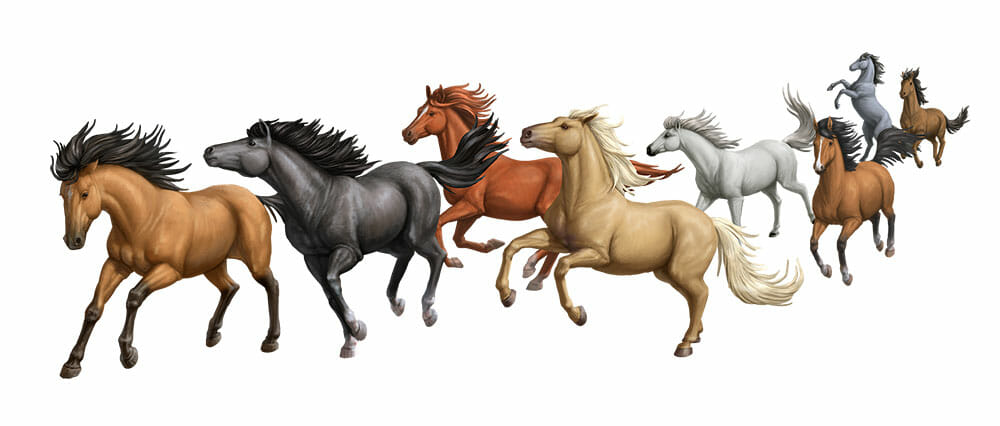 Early sketch: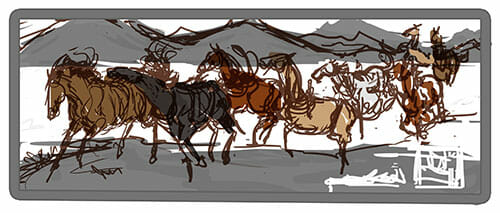 Below is the full product description from AGSX:
2014 EIGHT  HORSE 2oz SILVER COLOURED XAG BAR
UNBRIDLED GOOD FORTUNE      
Embodied in two ounces of 99.9% pure silver, are the passion, power and success of eight spirited stallions running free. As they charge forth, they bring with them youthful energy, alive with good fortune.
Chinese tradition has it that eight horses running together, in the same direction, is symbolic of the arrival of luck. Horses are universally renowned for their power, grace and sense of freedom. They possess a distinct position in many cultures that reflects their unique bond with people. Our relationship with horses is one of mutual respect, trust and love.
THE EIGHT HORSES OF FORTUNE
There are eight distinct coats on the horses in this piece. Leading the charge is the Dun. Characterised by a light body colour, these horses have a distinct stripe along their dorsal region. Behind the Dun is the rare Black horse. With dark brown eyes and black skin, this horse's coat is a rich ebony black.
The third galloping horse from the left is the Chestnut. Found in many breeds, the Chestnut's deep reddish brown coat is offset by the lighter shades of its mane and tail. Following the Chestnut come the Palomino, with its distinctive white mane and tail highlighting its golden body.
The Grey and Bay horses are the fifth and sixth horse in the chase. Common in many breeds, both horses have black points at their mane, tail ears and lower legs. The subtle slate of the Grey horse lightens with age as the horse matures, while the Bay's black points soften to grey.
Bringing up the rear are the Blue Roan and Brown horses. The Blue Roan is a rare colour, with a dark underlying coat that has a beautiful bluish cast to it. The stable of horses is complete with the Brown horse. The rich chocolate of this horse's coat speaks to the power and poise of this gracious animal.
EXCHANGE VALUE SILVER
This piece of Exchange Value silver contains 2 troy ounces of pure silver. It is denominated in troy ounces; the standard unit of measure used for gold and silver traded on international metal exchanges. Its face value of 2 XAG directly corresponds to the value of its metal content traded on international metal exchanges. Exchange Value products, such as this, can be immediately valued and exchanged at any time in any currency.
Release the power of eight unbridled horses charging good fortune into your life
SUPPORTING HORSE WELFARE
Your purchase includes a $1.00 donation to Horse Welfare Inc. This important charity is dedicated to supporting the rescue, rehabilitation, re-training and re-housing of Australian horses in need.
Located at Glen Oak, in the New South Wales Hunter Valley, Horse Welfare cares specifically for horses. These animals may have been neglected, left behind, forgotten, mistreated or are simply unable to be looked after by their owners.
In addition to caring for animals directly, Horse Welfare provides education to the Australian community about ways we can care better for our equine friends.
To find out about donating, adopting or supporting Horse Welfare in other ways, please visit www.horsewelfare.com.au.
PRODUCT SPECIFICATIONS
Technical Specifications (each bar)
Silver Content (Troy Oz)
2
Denomination (XAG)
2
Fineness (% purity)
99.9
Minimum Gross Weight (g)
62.27
Maximum Width (mm)
78
Maximum Height (mm)
31
Maximum Thickness (mm)
2.75
Designer
Elise Martinson