Onebird: The Rise of Moo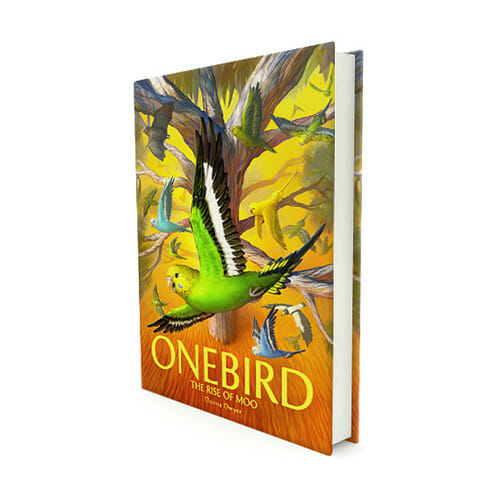 Onebird: The Rise of Moo written by Donna Dwyer and published by BookBaby is now available in ebook format on several book sites including Amazon.
Donna contacted me last year to illustrate the cover and I was stoked to hear that the main characters were budgerigars. The cover features Moo (the central character) alongside Barney, Fudge and Yukey with Plum the magpie and Horace the bat in tow. The night parrots (a species of extremely rare and elusive Australian parrot) can also be seen flying with the unlikely heroes through the branches of Magic, the tree.
The process began with a a couple of rough thumbnail sketches, followed by a lot of colour studies (working with green an orange as the main colours was a challenge), a detailed greyscale image and then the final colours were added.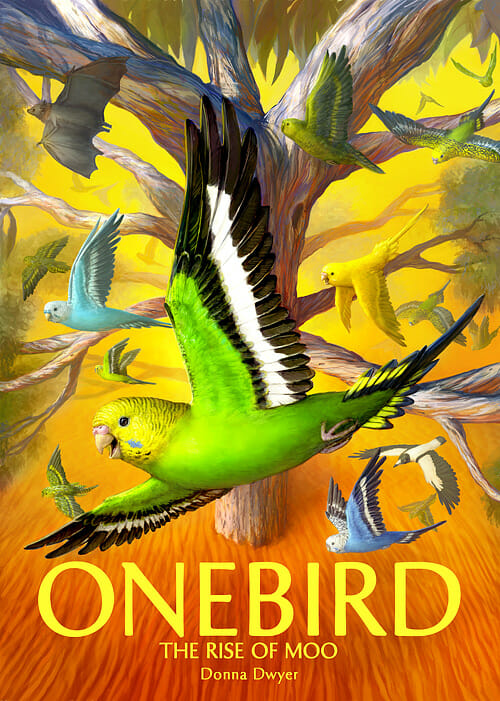 Below is a brief synopsis of Onebird:
Meet Moo, the tiniest leader in budgie history, who vows to purge the city of its latest blood sport. Three plucky budgerigars join her. Fudge has a voice from heaven, Barney is tarred but not feathered and Yukey hosts a magical seed. They blaze a trail to the Prime flock. Along the way they meet the shy Night Parrots, the nomadic Wheat budgies, a friendly magpie and a curious bat. But before they can begin to rescue the city's captive birds, Moo needs to convince the powerful Humblest Guardian that their quest is noble. Will Moo and her companions have the stamina to fly back from Australia's heartland? And will the captive budgies be rescued in time? The odds are stacked against Moo because, after all, she is only Onebird.
Onebird: The Rise of Moo is now available for download at Amazon, Indigo, Scribd,  Junglee and Bookworld. Check it out!